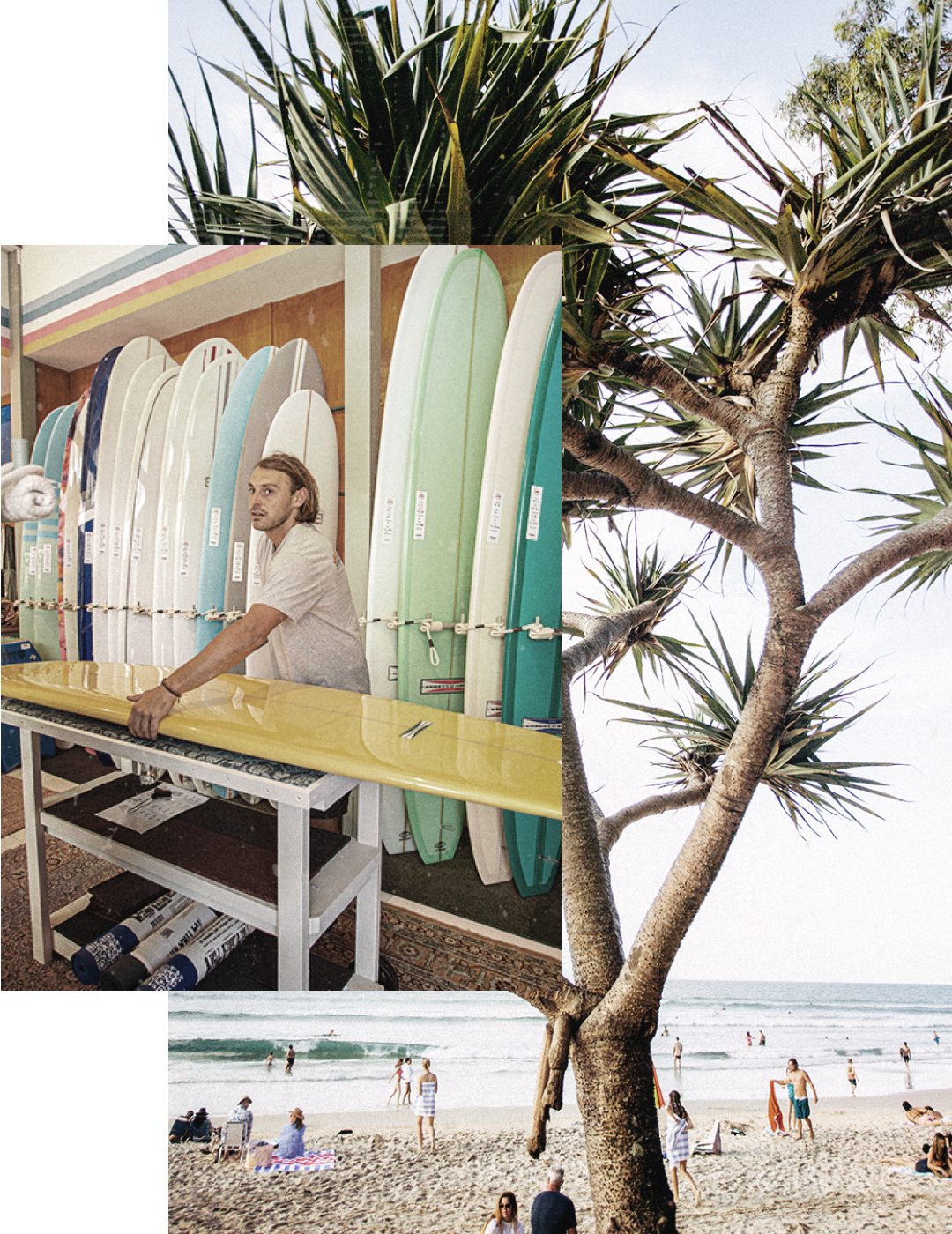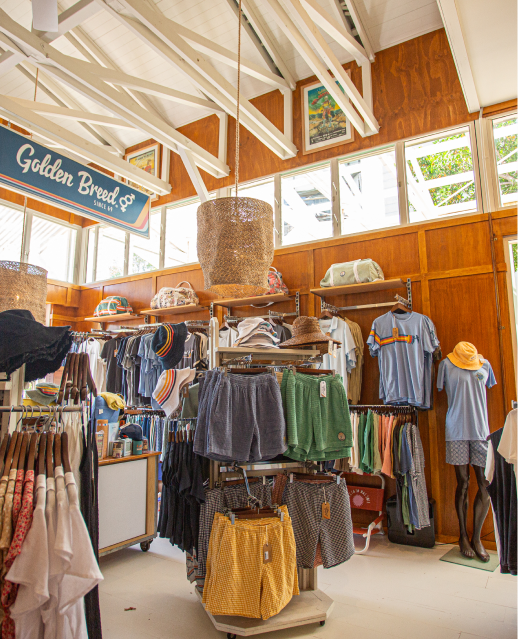 Rent A Surfboard In Noosa
Golden Breed's Noosa surfboard hire shop is just footsteps away from world-class breaks, golden sunsets and good times.Drop into our store and we'll kit you out with your weapon to go and get salty with. Whether you're a beginner wanting to rent a surfboard, or traveler who didn't come prepared, we've got an epic variety of boards to choose from. Aside from surf hire, our surf store stocks hats, wax, tees, shirts, sunscreen, boards to buy and everything a top surf shop should have.
Bodyboard Hire & Sups
If chasing barrels isn't your style, we also hire stand up paddle boards (SUPS) and bodyboards. Noosa is renowned for glassy mornings in the canals, and picturesque memories. On a flat day, rise and shine with the birds, grab a quick coffee and enjoy a chilled session of ray-spotting and seeing mother nature in all her glory. Our Noosa surfboard hire shop has all options, for all ages...
See our Rates
Noosa Surf Spots
Rent A Surfboard
Book your Noosa surfboard hire with our friendly team

Visit us
Golden Breed - Noosa
13 Noosa Drive, Noosa Heads QLD 4567
8:30am - 5pm
Which Surfboard Should You Hire?
Renting a surfboard can be daunting with all the choices, shapes and sizes, and the various Noosa breaks. Here's a simple guide that'll get you started.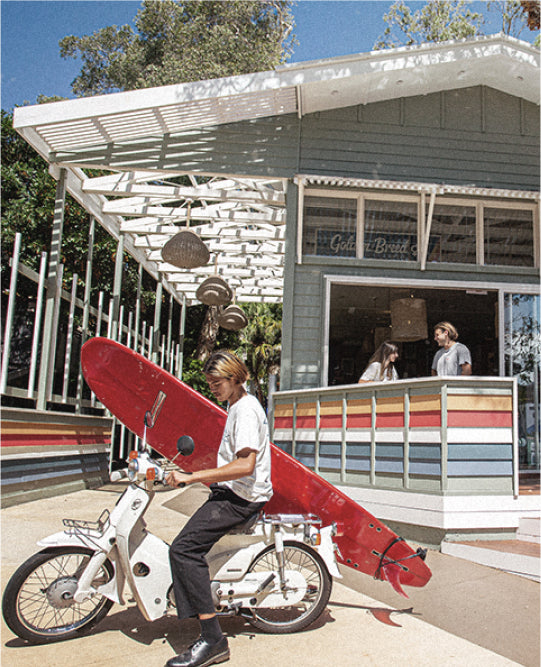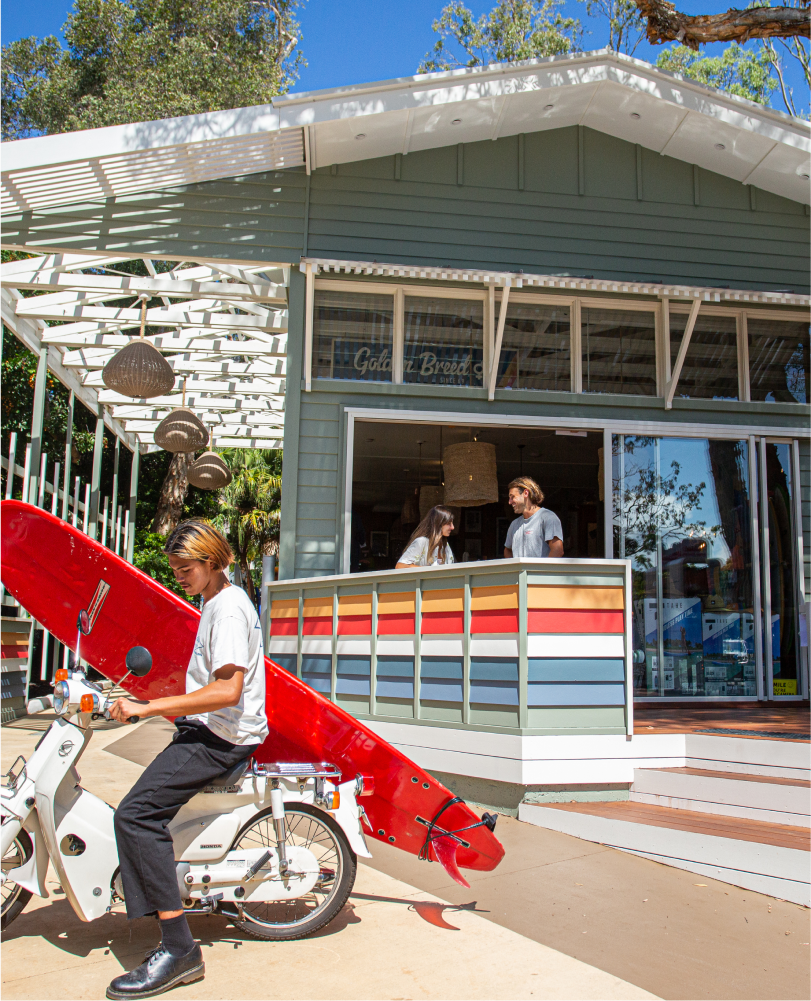 New To Surfing?
No stress, all staff at our Noosa surfboard hire shop have grown up in the ocean, so when it comes to the local breaks, and which boards are best for you, we can give you solid advice and tips to get started. Come on down, check out our range and we'll get you in the ocean in this little slice of Sunshine Coast paradise that we call home.
Noosa's Iconic Surf Hire
We're a surf brand who honours the nostalgia of retro vibes, classic times and enjoying life for what it really is. Find us at the Golden Breed round-a-bout on Nooa Drive, Noosa Heads - You can't miss us.
Bringing your board back is easy being just a few footsteps from Noosa's main beach. We'll organise eveything you need. Starting by prepping your boards with wax, we'll find the right leggy for you, suggest a rash guard, and recommend the right spot for your skill level and the waves on the day.
Where To Surf In Noosa
As a beginner, you can try your luck at Noosa main beach, but usually, there's a better wave if you walk north for 5 minutes and head towards the Noosa river mouth. It all depends on the swell direction and wind conditions, so if does look a little choppy, turn towards the national park from main beach and the first bay you'll find is called Little Cove. Another great spot for beginners. There are plenty of surf beaches here, but it's best to always get surf lessons if you're inexperienced. A learn to surf, surf school can show you the basics while keeping you safe. The surf schools are usually located by the river mouth and you can access them by car via Noosa Woods.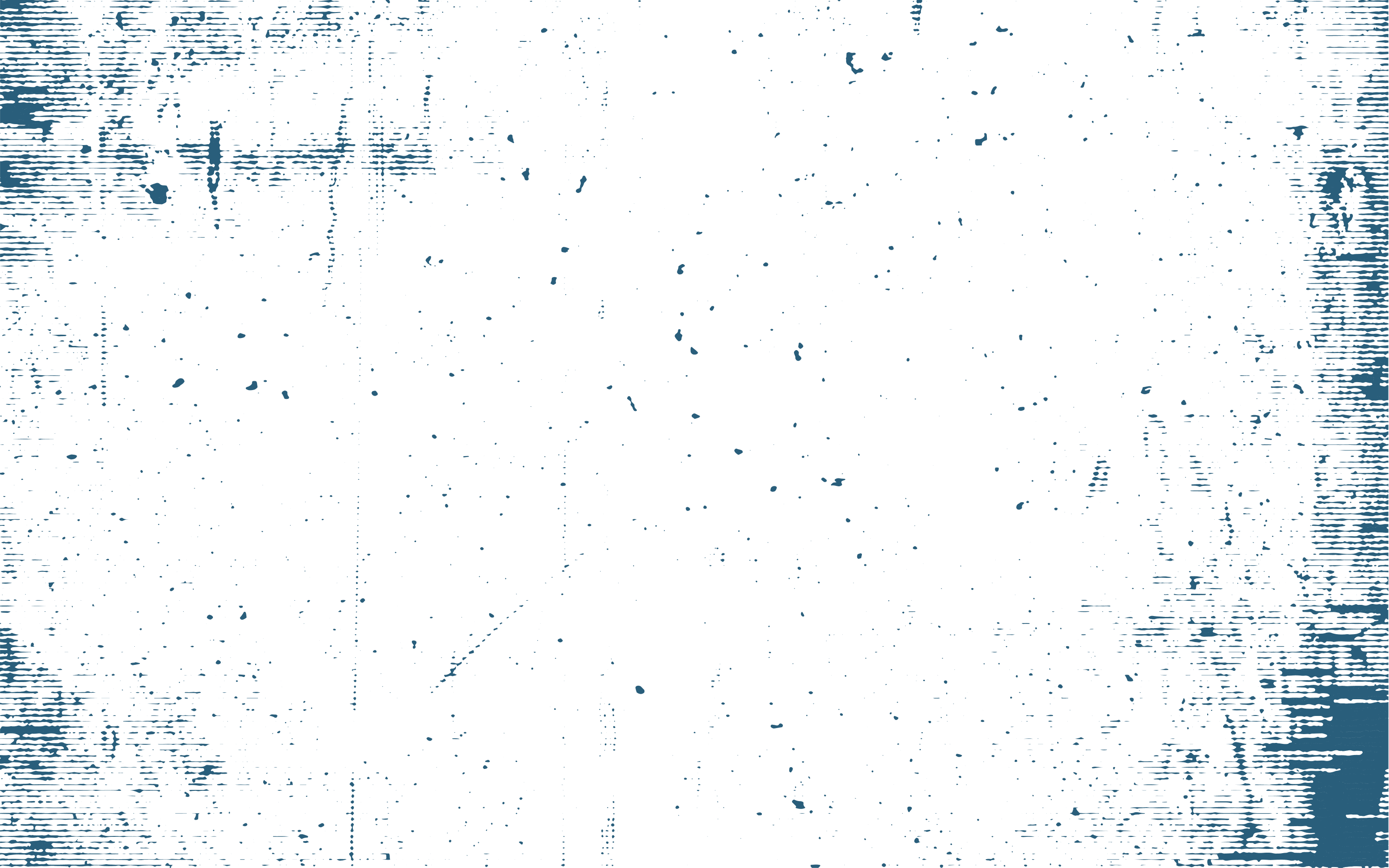 Put A Leash On It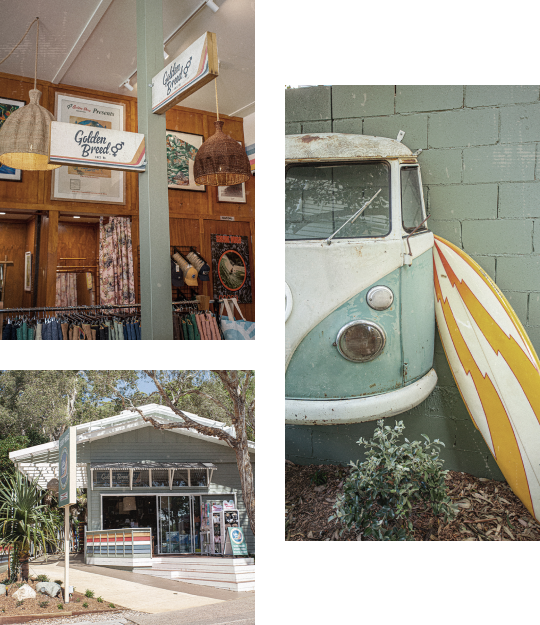 Put A Leash On It
If you're hiring a board, or even buying one, we'll kit you out with a leggie, otherwise know as a leash, or leg rope that's going to keep you attached, and safe in the water.

Our Noosa surf store stocks stacks of gear, surf accessories and apparel. You'll be able to pick up wax, wax combs, sunscreen, bucket hats, rashie's, wet suits and everything you'll need before getting wet.

If you need advice on what size, what , what board, what leggie, or any technical question at all, our staff are knowledgeable and happy to assist.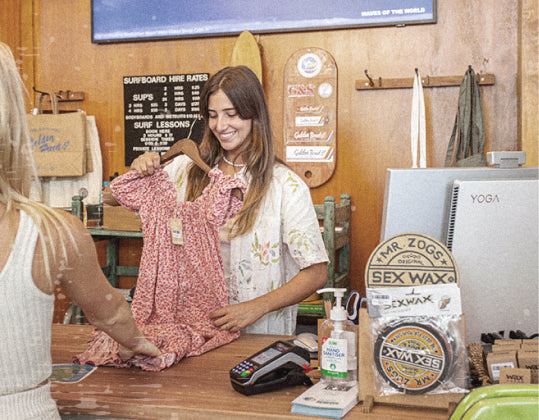 Check Out Our Hire Rates
Please note, we cannot make bookings in advance. Golden Breed discounts do not apply to board hire rates and we do not deliver boards to your location. Come to the shop, feel the vibes and enjoy everything that Noosa has to offer. We're only footsteps away from world famous breaks
Overnight (4pm until next day 9.30am)
$45
After 3 Days (per 24 hours)
$5
I recently had the pleasure of renting a surfboard from Golden Breed, and I have to say that I was thoroughly impressed with their service. From the moment I walked into their shop, I was greeted with warm and friendly staff who were eager to help me find the perfect surfboard for my needs.

Nick Richards

Golden Breed is an iconic Australian Surf Brand. The Golden Breed Shop in Noosa Heads, whilst small, offers a good range of functional and purpose built surf wear at a competitive price.

Buddha

The Best shop to get rental surfboard ! Highly recommended. I rented 9'0 hard longboard which was great and they offered me I can change the board as much as I want from the plenty of choice. Definitely come back! Best part of the shop is all staff was very friendly and helpful!

MaiJPS
FAQs - SUP, Bodyboard & Surfboard Hire
Our commonly asked questions when people hire boards from us.
Do I need to be an experienced surfer to hire a surfboard?
It's recommended that you have some experience surfing before hiring a fibreglass surfboard, but we also rent beginner boards - Foamies which are soft, and a lot safer for people still finding their feet.
Can I hire a surfboard without a wetsuit?
In Noosa, you don't need a wetty, unless you're surfing in the winter months. Ideally, you'd have a rashie to protect yourself from chaffing, and the sun. Ask our staff, and we'll give you options.
Can I hire a surfboard for multiple days?
100%. Ask our staff, and they'll let you know your options and pricing.
How do I transport the surfboard to the beach?
We're within walking distance to the river mouth, Little Cove, Nationals, and Tea Tree. Otherwise, if you want to hit the opens - Dog Beach, Sunshine Beach, Castaways or Peregian, it's best to have surf racks, and a purpose made surf tie-down. Better yet, if you've got a van, load them in carefully so they're secure and won't get damaged while traveling.
Can I hire a surfboard for a child?
Yes, we rent body boards, and surfboards for kiddos. It's best to check availability with our Noosa staff.
What happens if I return the surfboard late?
We sometimes charge a fee for late returns, but this depends on how late you return it and how busy Noosa is. We're reasonably relaxed, but it's best to expect that you'll get an additional charge.
How do I choose the right size surfboard for me?
The size of the board depends on your weight, height, and skill level. You can ask our staff for advice on which size would be best for you.
How much does it cost to hire a surfboard?
Have a look at our pricing schedule on this page, you'll find pricing for surfboards, body boards and stand up paddle boards.
Does Golden Breed provide surf wax when hiring a board?
Yes, we wax your weapon, rail to rail, prior to you heading out, but it's always a good idea to bring your own, or buy some, just in case.
What do I do if the surfboard gets damaged while I'm using it?
You should contact us immediately if the surfboard gets damaged while you're using it. Do not take it back in the water, this will further damage it. We will advise you on what to do next.
How do I know if the surfboard is in good condition?
It's always good practice to inspect the surfboard for any cracks or damage before hiring it. Or even take photos.
Where are the best surfing spots in Noosa?
This depends on the conditions, but spots that people commonly surf are the river mouth, accessible from Hastings Street, First Point, Little Cove, Nationals, Tea Tree and Granite are accessible from the Noosa national park carpark. If the points aren't working, try the opens at Dog Beach, Sunshine Beach, Castaways Peregian or Coolum which require you to rack up and a short drive.
Rent A Surfboard
Book your Noosa surfboard hire with our friendly team

Visit us
Golden Breed - Noosa
13 Noosa Drive, Noosa Heads QLD 4567
8:30am - 5pm
Choosing a selection results in a full page refresh.