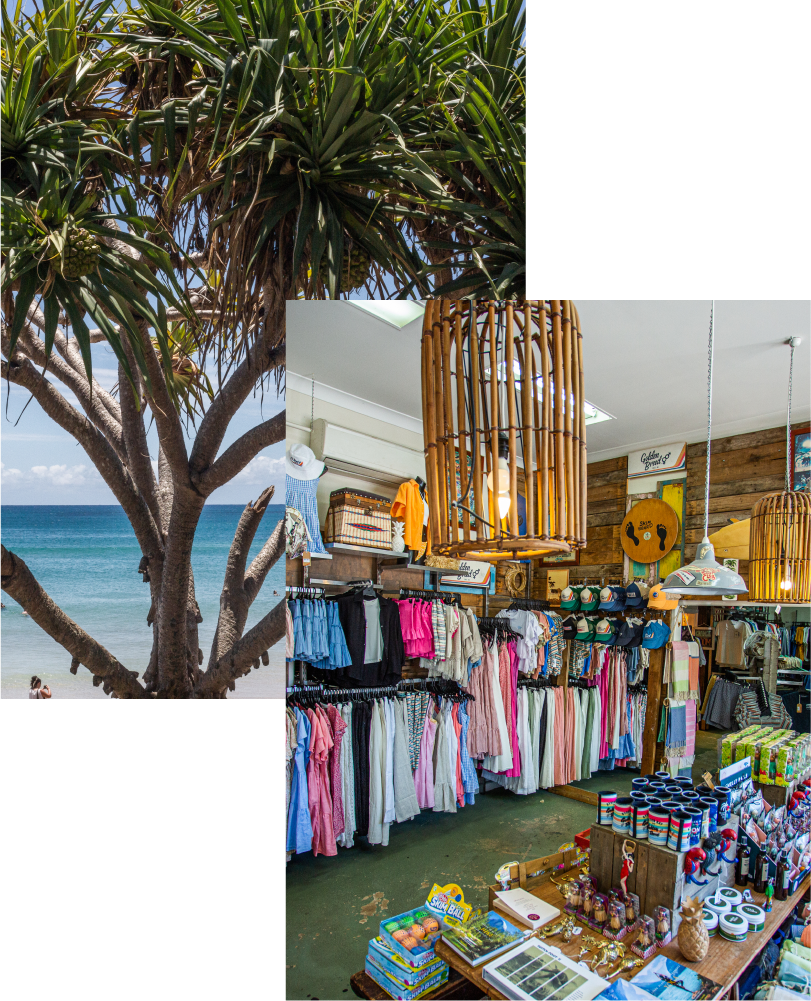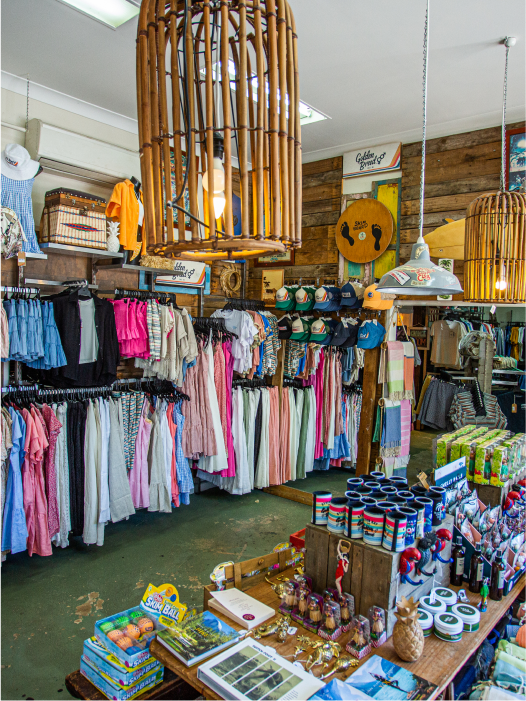 Byron Surf Hire
Visit us in-store for Golden Breed's surfboard hire. Byron Bay's loaded with options of where to surf, no matter your experience and we've got a range of boards that suit. Choose from shortboards, foamies SUP's, and bodyboards, so you can go and get salty in style.
Or if you have no idea where to begin, our staff have all been surfing Byron Bay for years, they know all the local surf breaks and which boards are going to be right fto deck you out with.
Come on down, we'll size you up, give you advice, a few safety tips and set you in the right direction. Find us at 10 Lawson St in the heart of Byron.
see rates
How To Tie A Surfboard To Roof Racks
Contact Us To Find Out More

Visit us
Golden Breed - Byron Bay
10 Lawson Street, Byron Bay NSW 2481
Which Surfboard Should I Hire?
Wondering which board is right for you? Check out our quick guide below, or ask in store.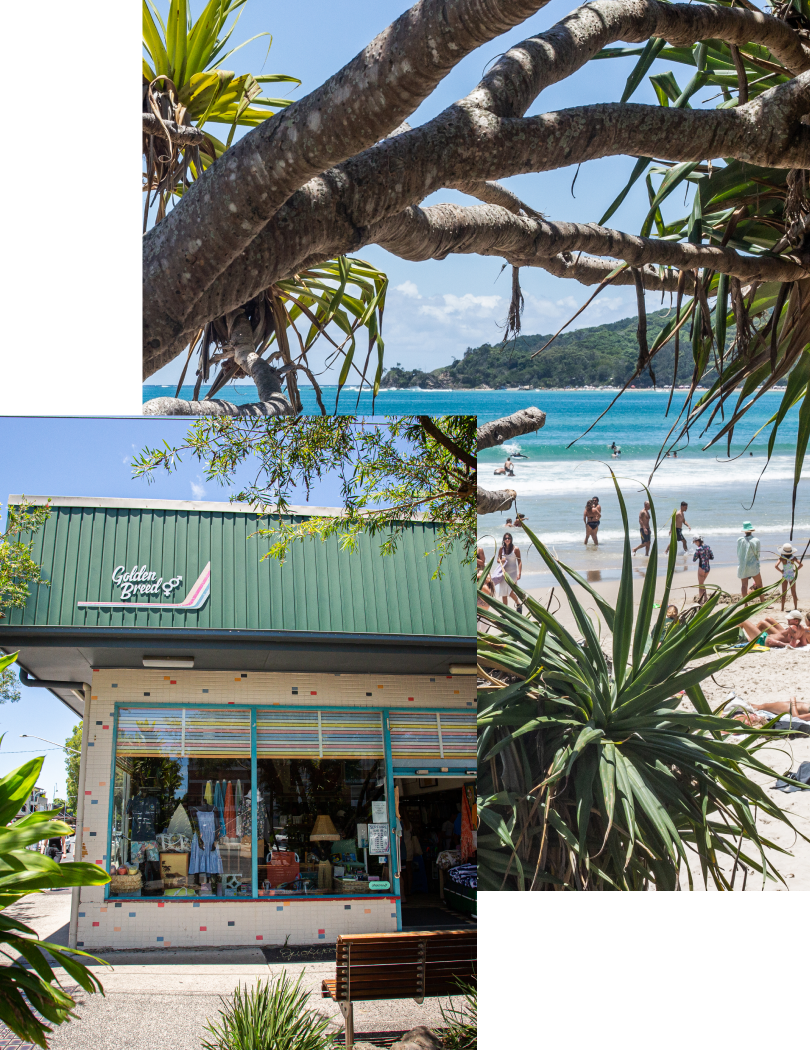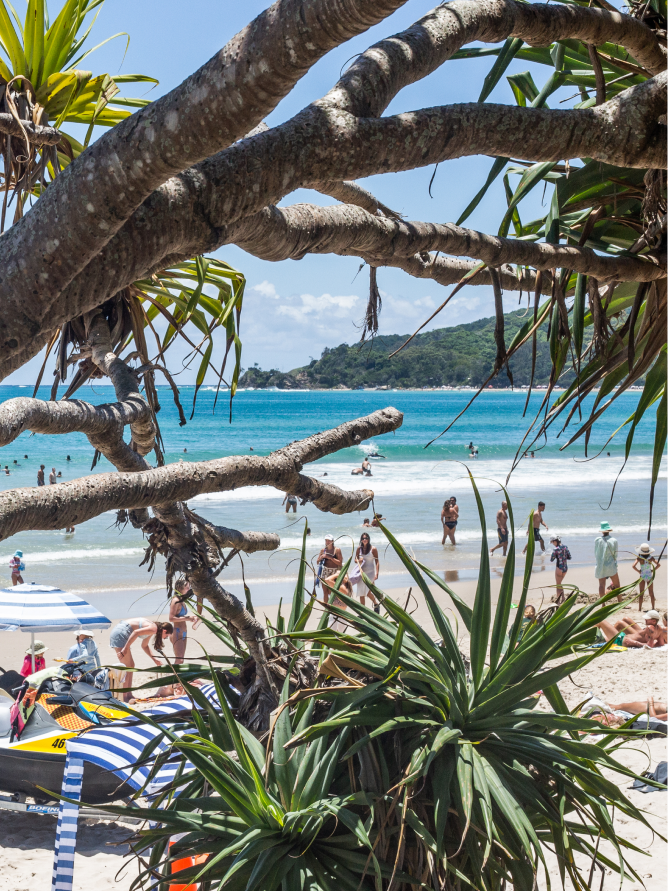 Byron Bay Surfing
Byron Bay surfing has an epic reputation for peely rights, glassy mornings and good vibes. We've got loads of surf spots to choose from, so here's a quick run-down.
Beginner Surf Spots in Byron
The Pass, located at the eastern end of Main Beach. It can get crazy-busy, so just be careful of other people in the water and research how to be safe in the water. The waves here are long and fat, making it an ideal spot for beginners.
Wategos Beach is another option, located just a short drive from our store. The waves here are forgiving, making it a great place to practice your pop-up.
Advanced Surf Spots in Byron
If you're an experienced surfer looking for a challenge, Byron Bay won't disappoint. The area is home to some of the best surf breaks in the world, including Lennox Head and The Wreck.
Lennox is located about 15 minutes south of Byron Bay and is known for its long, powerful waves, head south another 5 minutes and you'll find Boulders surrounded by mother nature in all her glory.
The Wreck, located at the northern end of Main Beach, is another popular surf spot with experienced surfers. The waves here are hard and fast, making it a challenging but rewarding break to get salty.
Byron Bay Surfing is world class, just be careful to find the right breaks, be safe, and wear a damn leggie.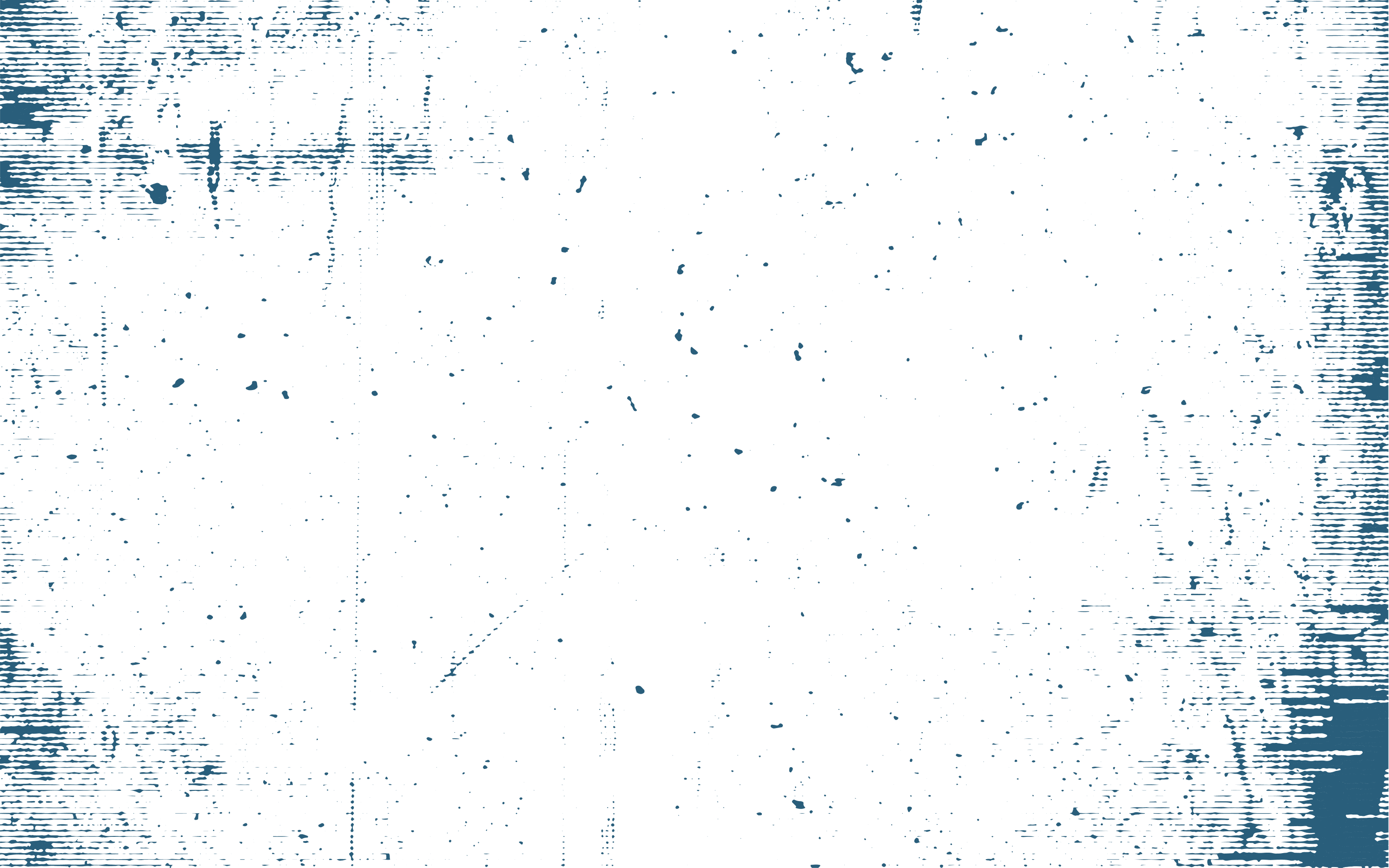 SUP's Bodyboards & Surfboard Hire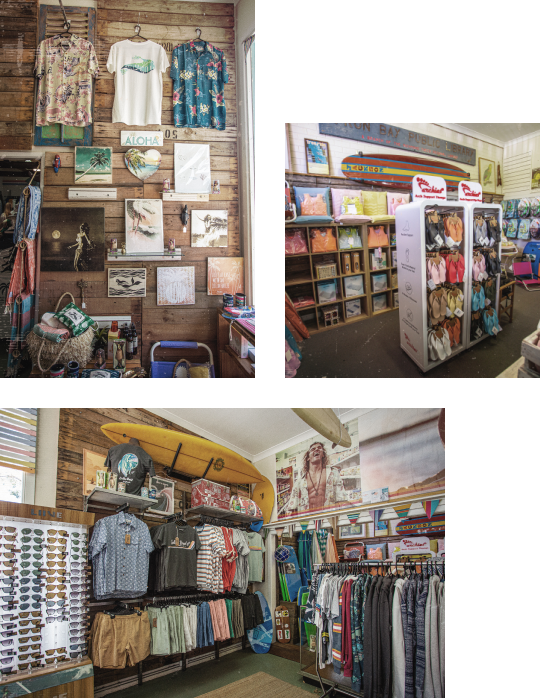 SUP's Bodyboards & Surfboard Hire
Our Byron Bay Surf hire includes 4 person stand up paddle boards, (SUP's). Hire body boards, paddle boards and surfboard hire from our Byron store. If you're not sure which board is for you, we'll help. We hire foamies (beginners boards), for the kids we've got body boards, and for advanced surfers, we've got shortboards and more. We'll kit you out with rashie's, boardies if needed, and wax your weapon, rail to rail so you're ready to go and get salty.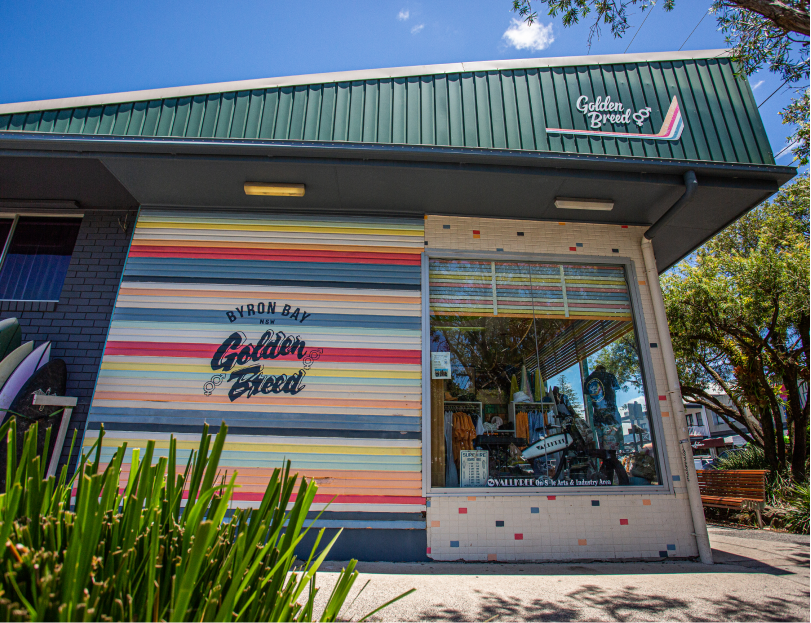 Surf, SUP & Body Board Rates
Overnight (4pm until next day 9.30am)
$45
After 3 Days (per 24 hours)
$5
Loved this brand back in the 70s and great to see its reboot. Fantastic people working in the Byron Bay store with a great sale on when I was there. Got a high quality hoodie for my nephew. Love the Golden Breed branding, colours and vibe, 70s cool.

Barry P

Gorgeous clothes!

Becky Keen

A little not so hidden gem in Byron. I recently realised a lot of my clothes are from here!

Jason Howarth
FAQs
Our commonly asked questions...
What are the best surf beaches in Byron Bay?
There are several great surf spots in this world-famous surf town. The Pass is the most popular and also the busiest. Wategos beach is great as well .You should also check out Belongil beach and Clarks. Then you can venture around to Tallows and Broken head. If you have wheels… Lennox Heads and Brunswick Heads are also great options.
Where is the best place to surf in Byron if you're a beginner?
There are several great spots to surf in Byron Bay for beginners. Like most places, beginners should only venture out when the ocean is in calm mode! Every spot can put you in harms way if the swell is too big. You always need to ask our staff or google local surf reports and check the key factors around your surf session. Swell size / wind strength and direction /tide movements and crowds.
Do I need to book my surfboard rental in advance?
Not usually, but to avoid disappointment during peak season, it's never a bad idea to pay a deposit and secure one. You can book online, in-store, or over the phone.
Do I need to be an experienced surfer to hire a surfboard?
It's recommended that you have It's recommended that you have some experience surfing before hiring a fibreglass surfboard, but we also offer beginner boards called Foamies, which are softer and safer for those still learning to surf
Is it necessary to have a wetsuit when hiring a surfboard?
You won't require a wetsuit unless it's the winter months but it's smart to wear a rashie for protection against chafing and the sun. We sell and hire these options at an additional charge, although borrowing a rashie is free.
Can I rent a surfboard for multiple days?
Absolutely! You can ask our staff about your options and pricing.
What is the best way to transport the surfboard to the beach?
In Byron, you're going to want to load the boards in a van, or rack them up on the roof of your car. There are several breaks that are within walking distance, but that's valuable wave time you're missing out on.
Can I rent a surfboard for my child?
We have body boards and foamies available for kids. Please check availability with our Byron staff.
What happens if I return the surfboard late?
We may charge a fee for late returns, depending on how late the board is returned. While we're typically relaxed, you should expect a small additional charge.
What is The Pass in Byron Bay?
The Pass is one of the busiest and most famous surf spots in Byron Bay. It is an iconic surf break with consistent sets, big swells, and long, peely right-handers. It is great for all levels of surfers and is particularly popular with long-boarders.
How much does it cost to rent a surfboard?
Hiring a board starts from $15 for 2 hours, check out our pricing chart, and note the different tabs for SUP's, bodyboards and fomies. If you'd like to rent a board for longer than 2 hours, we have plenty of options.
Where are the best places to rent a surfboard in Byron Bay?
Golden Breed surf shop, of course. Where else?
How do I select the appropriate surfboard size for me?
Your weight, height, and skill level determine the appropriate surfboard size. Just ask our staff, and they'll size you up appropriately.
What is the cost of renting a surfboard?
You can find pricing for surfboards, body boards, and stand up paddle boards on this page in our pricing section. Note the tabs, which will switch you between board types.
Do you provide surf wax when hiring a surfboard?
Sure do, we wax your board, rail to rail, but it's a good idea to bring your own or purchase some, especially if you're renting for longer than 2 hours.
What should I do if the surfboard gets damaged while I am using it?
Keep it out of the water and let us know. These things happen. We're pretty relaxed assuming you haven't been reckless with it. In most cases, there's just a small charge to get a minor ding repair.
How do I know if the surfboard is in good condition?
It's always best to inspect the surfboard for any cracks or damage before renting it. Take photos while in the shop of anything you're unsure of.
Contact Us To Find Out More

Visit us
Golden Breed Byron Bay
10 Lawson Street, Byron Bay NSW 2481
Choosing a selection results in a full page refresh.